salam sumer...sowielah fafau xpat nak upload gamba n video besday fafau tuh...xde MOOD...sedihni....mr Resto dpt posting di sarawak...pedalaman....sedey oooo...sape xsedey...hmmm...moga ader hikmah sumer ni....skg ni lau tepon pon, ckp tsekat2 sbb bkn xde line, tp sebak wooo...mr.resto m'cover sedunyer...fafau lg la...dah meleleh bagai....huuuuu
korunk nk tau SK kmapung Jebungan tu cane?>>ni yg wat Fafau riso...mr.resto mmg ader mslh alergi dr kecil....mcm2 la dier tuh...n d most important thing is die xmkn sayur n seafood...kat sarawak tu, mende yg sure2 halal, dah tentula sayur2an n seafood...yg daging2 ni kene beware skit kan>>so, korunk layan je pic nih, fafau tgk blok kediaman guru, penuh lalang, tp yg len2 cm cantik jer...mr resto have to take boat on going to his skola....but then, fafau recognize aircond di situ...sofar alhamdulillah...hrp2 ader line phone n letrik...dah kire bersyukur dah....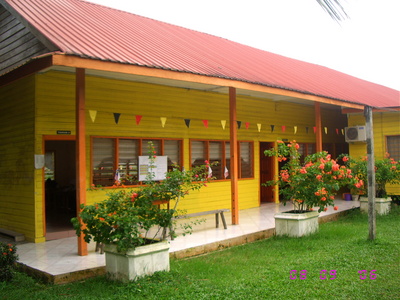 nampak x ader aircond???so must have letrik kan??

sedey tgk blok kediaman guru nih......

mr.resto maybe lalu jeti ni pas turun dr boat

ini aderlah kelas pemulihan.....

p/s kredit to http://skkjeb.zoom-a.com/panorama.html